Recipe: Butterflied Chicken with Herbs and Cracked Olives
September 20, 2019
By Alison Carroll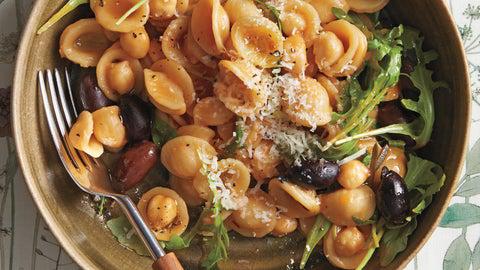 photo credits : bonappetit.com
Butterflied Chicken with Herbs and Cracked Olives
Serves: 8
Ingredients
Crust
2 x 3.5-4pound chickens, backbones removed
Kosher salt, freshly ground pepper
6 garlic cloves, finely grated
1/4 cup Aleppo-style pepper
1/4 cup finely chopped rosemary
1/2 cup olive oil, divided half
1 cup green olives, pitted, torn
1/4 cup fresh lemon juice
1/4 cup chopped oregano
1/2 cup chopped parsley, plus leaves for serving
Method
The night before you plan to grill the chickens, place them on a work surface, breast side up, and open them up against the surface as much as possible. Using your palms, press firmly on breastbone to flatten breast. You may hear a crack. This means you're doing it right. Set chickens, breast side up, on a large rimmed baking sheet. Season generously on both sides with salt and black pepper. Chill, uncovered, at least 8 hours and up to 2 days.
Remove chickens from refrigerator and set out on your counter. Combine garlic, Aleppo-style pepper, rosemary, and ¼ cup oil in a small bowl. Rub chickens all over with mixture and let sit until room temperature (1–2 hours).
Prepare a grill for medium-high, indirect heat (for a charcoal grill, bank coals on one side of grill; for a gas grill, leave one or two burners off). Set chickens, skin side down, on grate over indirect heat. Cover grill, placing cover vent (if your grill has one) over chickens so it draws heat up and over them. Grill, rotating chickens as needed so that they color evenly, until skins are lightly browned (15–20 minutes).
Turn chickens and continue to cook, covered, until skins are deep golden brown and crisp and an instant-read thermometer inserted into the thickest part of breasts registers 70°C (20–25 minutes). Transfer chickens to a cutting board and let rest at least 10 minutes before carving.
Mix olives, lemon juice, oregano, chopped parsley, remaining ¼ cup oil, and any accumulated juices from chicken on the cutting board in a medium bowl. Season with salt.
To serve, arrange carved chickens on a platter and top with olive mixture and parsley leaves.