FB SHARE RECIPE CONTEST WK 3
January 18, 2018
Win Eagle Vale Olives Voucher to spend!
Share your recipe on our FB Page
To qualify, your recipe must include Olive Oil and/ or Olives as part of its ingredient.
The post with the most number of likes will stand to receive a $30 spending voucher from Eagle Vale Olives
* your post is subject to approval by page admin, to ensure cleanliness and integrity of our page *
* contest starts from 05.01.18 and ends on 05.02.18 (both dates inclusive) *
Click here to share your recipe
Here's our recipe for Week 3, one of our fav from Chef Matt Moran
Be sure to try this delightful recipe and share with your family & friends!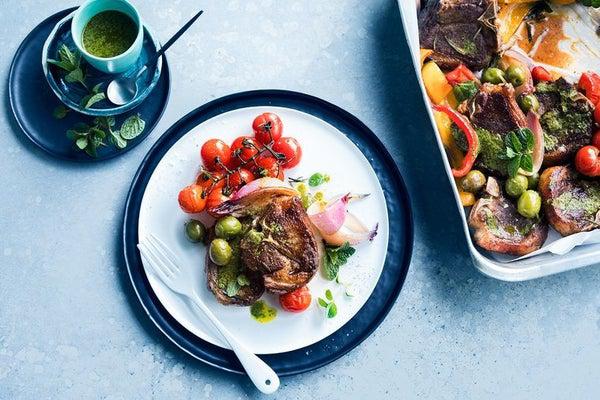 recipe / photo credits : Matt Moran / Jeremy Simons


Baked Lamb Chops, Capsicum, Tomato, Olives and Mint Oil
Prep Time: 10 mins
Cooking Time: 20 mins
Serves: 4
Ingredients
2 tbs olive oil, plus extra to drizzle
8 lamb chops
1 red onion, cut into 8 wedges
1 red capsicum, cut into 8 strips
1 yellow capsicum, cut into 8 strips
2 garlic cloves, thinly sliced
2 rosemary sprigs, leaves picked, chopped
2 tbs sherry vinegar (or red wine vinegar)
1 tsp sugar
200g cherry truss tomatoes
½ cup (60g) pitted green olives
Mint oil
1 bunch mint, leaves picked, plus extra to serve
2 tbs capers
Finely grated zest of 1 lemon
1 garlic clove, chopped
125ml extra virgin olive oil
Method
For the mint oil, place all ingredients into a tall jug, season, and blitz with a stick blender until smooth. Set aside.
Preheat oven to 200°C. Heat 1 tbs oil in an ovenproof frypan over high heat. Season lamb chops and cook 2 minutes per side or until browned. Remove chops and set aside.
Wipe out pan, then heat remaining 1 tbs oil over medium heat. Add onion, capsicum, garlic and rosemary. Cook for 2-3 minutes, stirring regularly. Season. Add sherry vinegar and sugar, and cook for a further 1 minute or until sugar is dissolved.
Return lamb chops and nestle among the vegetables. Top with tomatoes and olives, and drizzle with oil. Bake 8-10 minutes until tomatoes are soft.
To serve, drizzle with mint oil and scatter over extra mint leaves.