FB SHARE RECIPE CONTEST WK 1
January 04, 2018
Share your recipe on our page!
To qualify, your recipe must include Olive Oil and/ or Olives as part of its ingredient.
The post with the most number of likes will stand to receive a $30 spending voucher from Eagle Vale Olives
* your post is subject to approval by page admin, to ensure cleanliness and integrity of our page *
* contest starts from 05.01.18 and ends on 05.02.18 (both dates inclusive) *
Click here to share your recipe
Let us start first by sharing our favourite recipe from Martha Stewart.
Be sure to try this delicious recipe and share with your friends!
Recipe from – Martha Stewart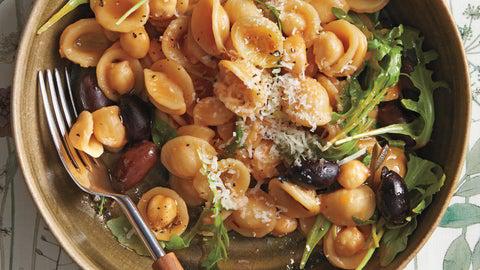 photo credits : marthastewart.com


One-Pan Orecchiette with Chickpeas and Olives
Prep Time: 30 mins
Cooking Time: 30 mins
Serves: 4
Ingredients
12 ounces orecchiette
1 can (15.5 ounces) chickpeas, drained and rinsed
1/2 cup Kalamata olives, pitted
2 tablespoons tomato paste
3 cloves garlic, thinly sliced
1 6-inch sprig rosemary
3 tablespoons extra-virgin olive oil, plus more for serving
1/4 teaspoon red-pepper flakes, plus more for serving
Coarse salt and freshly ground pepper
1/2 cup grated Parmigiano-Reggiano (about 1 1/2 ounces), plus more for serving
2 cups baby arugula (about 2 ounces)
Method
Combine pasta, chickpeas, olives, tomato paste, garlic, rosemary, oil, pepper flakes, and 5 cups water in a large straight-sided skillet. Season generously with salt and pepper. Bring to a boil, then cook over medium-high heat, stirring occasionally, until pasta is al dente and liquid is reduced to a sauce that coats pasta, 12 to 15 minutes.
Remove skillet from heat, discard rosemary, and stir in cheese. Add more water, a few tablespoons at a time, to thin sauce if necessary. Divide pasta and arugula among bowls and serve immediately, drizzled with oil and sprinkled with cheese and pepper flakes.